​I was looking for good advice on writing stories when I came across this:


​"If a story teaches but doesn't entertain, then it's a sermon. If a story entertains but doesn't teach, then it's escapism."

I found this to be quite strange. Not wrong—just strange. This statement views story as having to balance entertaining the audience with teaching them. A story lies somewhere on a scale between teaching and entertainment. If it strays too far to one end, then it no longer becomes a story—it becomes a sermon or escapism.
​
When a story becomes a sermon, it becomes a different medium of communication. The story loses its defining qualities which is definitely a bad thing. The sermon, itself, isn't wrong. What's wrong is the fact that the story is losing a vital part of itself.
​
However, it's a little different with escapism. A story doesn't become a totally different medium of communication when it becomes escapism, because escapism isn't even a medium of communication. A so-called escapist story is still a story. Therefore, the bad side of escapism is escapism itself. But is escapism really that bad?

---

The first two articles in this series focused on the perception and value of aesthetic beauty. In the first article, Beauty and the Beholder, I explained why the phrase "beauty lies in the eye of the beholder" is wrong. In the second, Discovering the Standard of Beauty, I showed how God's creation helps us realize how limited our view of beauty is. But throughout this series I've ignored a serious issue: the relationship between beauty and body image

​When I first started this series, I did a little research to find out what other people thought of the phrase "beauty lies in the eye of the beholder." The overwhelming majority thought the phrase was true because of the relationship between beauty and body image. Their reasoning went something like this:
Powered by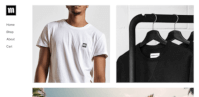 Create your own unique website with customizable templates.