Story
I can't think of a time when I didn't love stories. Ever since I was a child, I've been creating them. I wrote my first short story when I was eleven years old and have been writing ever since. Filmmaking captured my imagination three years later making it my favorite form of storytelling. Currently, I'm working on my debut novel. And although I don't consider myself an expert in story by any stretch of the imagination, I will be sharing with you any lessons I've learned. I believe that everyone--not just storytellers-- can benefit from a general knowledge of Story.

Spirit
​Three years ago God saved me from my sin. I had grown up in a Christian home, but I had never fully realized what it meant to trust in God completely. To see that I was a sinner and needed a Saviour. So when I put my faith in him, not myself, to save me from my sins, I truly became a Christian. And that comes with consequences. I don't feel the same way about sin. I have a desire to learn more about God. I see everything through a different lens. This is what the Spirit section of this blog is about. A collection of random thoughts or reactions to the world around me. All seen through my eyes.
Powered by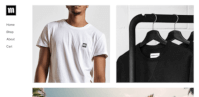 Create your own unique website with customizable templates.